Samstag, 31. Januar 2009
If I had the chance, I'd ask the world to dance...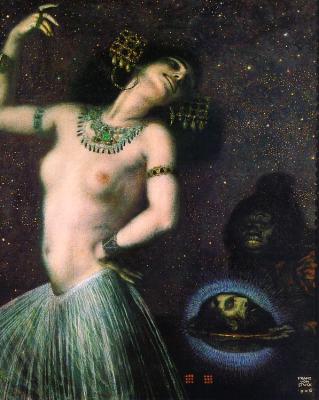 (Franz von Stuck, Salome)
... link (0 Kommentare) ... comment
Freitag, 10. Oktober 2008
ever is over all - pipilotti rist
weil ich heute darüber las, hier meine liebste videoinstallation.
destruktiv und doch charmant.




... link (0 Kommentare) ... comment
Mittwoch, 4. Juni 2008
ich bin ja sehr für ein revival der portraitmalerei...
irgendwas in den portraits von
sandro kopp
erinnert mich an (meinen lieblingsmaler) francis bacon. interessanterweise unterscheiden er sich sehr in seiner herangehensweise: kopp hält sitzungen, bacon hat ausschließlich mit fotos als vorlage gearbeitet. nun, das ergebnis ist ja auch ein anderes, aber da ist irgendwas...die farben?...der raum?... mhm...
sie sind jeder auf ihre art nah dran, an den menschen, die sie malen. portraitmalerei wirkt aber anders als die fotografie auf das gegenüber zurück. ein dargestellter sagt auf knopps website "If you paint from reality, during those four hours, you cannot pretend to be something other than what you are."
... link (0 Kommentare) ... comment